Benefits
Complete nutritional supplement for dogs
Rich with essential proteins, fats, vitamins, and minerals. Perfect for puppies who are not receiving the necessary nutrition that they need at their early stage of development. D
Delicious and easy to digest
Contains critical digestive enzymes and immunoglobulin to help maintain a healthy digestive and immune system
For dogs of all ages
This supplement is recommended for vulnerable dogs like puppies, birthing or lactating mothers, and senior dogs.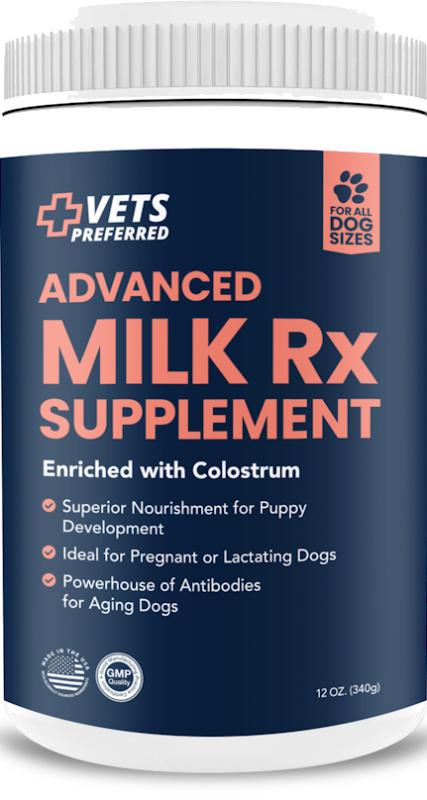 Easy to use
Simply mix with warm water based on the feeding directions included on the label.
For strong bones and healthy teeth
Made with natural milk proteins and calcium to support a healthy development
Premium veterinarian-grade
Produced in a GMP-certified facility, to ensure optimum quality and safety.
"I got this for my two male pups, 1 and 2 years old. My dogs have bad allergies, this was a recommend supplement on many websites to help due to an ingredient in it. Now it has many benefits just for healthy growth anyways. Both my dogs love this I give it to them a few different ways. One way is I leave it in powder mode and just mix it in their dry food. Another way is plain sugar free yogurt a good scoop of it mixed in, and lastly I make frozen yogurt treats so I'll mix it in the yogurt and put it in ice cube molds so they have a puppy popsicle later. I really recommend this for the actual use but also dog allergies, it helps my dogs."
"This product was an important and valuable part of my senior dog's end-of-life care. My dog developed sepsis from severe gallbladder/liver disease and wasn't eating. Our vet gave us some other brand of recovery fluid, but the calorie density of that one was so low, I searched for something that would provide more energy and found this. My dog liked the taste of it, and I was able to provide her daily nutrition via syringe feeding until it was time for her to cross the rainbow bridge. I'm grateful we had this product."
Best Sellers
30 Day Money-Back Guarantee
FAQ
Is this formula safe for cats?
Cats are typically more sensitive than dogs so we do not recommend using this formula for cats as it can be toxic to them.
Our Advanced Milk Rx Supplement has a delicious taste resembling natural mammals' milk, which also makes our formula very appealing to even the most finicky canines.
Our milk replacer for dogs also contains critical digestive enzymes and immunoglobulin to help maintain a healthy digestive and immune system for vulnerable dogs like puppies, birthing or lactating mothers, and senior dogs. Made with natural milk proteins and calcium, Vets Preferred Milk Rx Supplement supports development of strong bones & healthy teeth and our formula is vital to not only nourish, but prevent disease and illness.